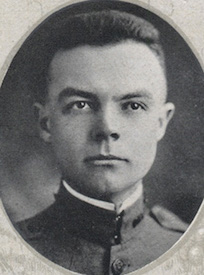 First Lieutenant
Bruce Walrath Clarke
Army
Company G
127th Infantry Regiment
32nd Infantry Division
Location of Death
Fismes, France
Location of Burial
Oise-Aisne American Cemetery, Seringes-et-Nesles, France
More About First Lieutenant Clarke
After specializing in law at the university, First Lieutenant Clarke accepted a position as a principal.
He eventually left this position to enter the First Officer's Training Camp at Fort Sheridan where he was assigned to the 10th Company. Upon receiving his commission, 1st Lt. Clarke was ordered to Camp Custer, then to Camp Greene in North Carolina, and finally to Camp McArthur in Waco, TX. He left Texas in February, 1918, to sail overseas with the 127th Infantry. After receiving training in France, his regiment moved to Alsace and from there they marched over the Marne and engaged in the Battle of Château-Thierry. With sixty-four other men, he helped to capture and hold Fismes for three days before relief reached them.
As they were being relieved, a high explosive shell burst and killed First Lieutenant Clarke. His company was cited for distinguished service during the initial American offensive.