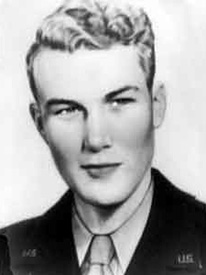 First Lieutenant
Wallace Edward Goff
Army
Company A
35th Infantry Regiment
25th Infantry Division
Location of Death
Honan-ri, South Korea
Location of Burial
Forest Hill Cemetery, Madison, WI
More About First Lieutenant Goff
First Lieutenant Goff was killed in action while valiantly fighting the enemy on Aug. 22, 1950, at Honan.
He was the son of Major and Mrs. Frederic Goff. Goff attended East High School and attended UW-Madison. He worked in the city finance office before serving in the Korean War. He married Virginia Haider of Madison and was survived by her, as well as a son, named William, who was 3 at the time of Lt. Goff's death, and two brothers, Frederic J. Jr. and Richard N. Goff.
Services for First Lt. Goff were held at Forest Hill Cemetery. He was the first Madison resident killed in action in the Korean war and was the first of Madison's gold star heroes to be returned to Madison. He was a member of the 35th regiment, 25th infantry, division Lieut. He was killed when an enemy force numbering for more than his company attacked Lt. Goff's platoon. He bravely left the safety of a foxhole to confront direct enemy fire all while serving as a source of encouragement and inspiration to the platoon. He disrupted the enemy attack until he was wounded and ultimately died.
He was posthumously awarded the Silver Star for gallantry in action. This hero also served for more than three years as a gunner's mate during World War II, second class, in the Navy. He received an Army commission in January 1949.